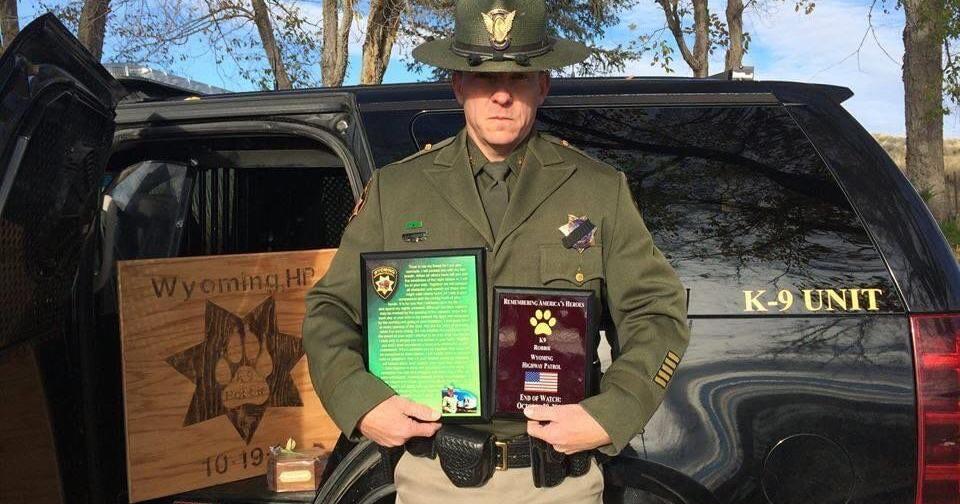 Wyoming Highway Patrol remembers K-9 Robbie | New
The Wyoming Highway Patrol honored the deceased K-9 Robbie with a memorial plaque and sign.
On October 19, 2014, Trooper Dave Chatfield was conducting a vehicle search near mile post 266 on westbound Interstate 80 east of Elk Mountain, Wyoming.
During the search, Cavalier Chatfield found an illegal controlled substance.
Cavalier Chatfield deployed his canine partner "Robbie" to the suspect vehicle to determine if there was any additional contraband in the vehicle.
After Robbie completed his search of the suspect vehicle's interior, Cavalier Chatfield attempted to reconnect Robbie's leash.
As Private Chatfield searched for Robbie, Robbie jumped out of the suspect vehicle and rushed into the traffic lanes.
After entering the lanes of I-80, Robbie was hit by a semi-truck and killed instantly.
The driver of the tractor-trailer was not breaking any laws at the time of the collision and no charges were laid.
Private Chatfield and Robbie began training together in July 2014 and began patrolling together in late August of that year.