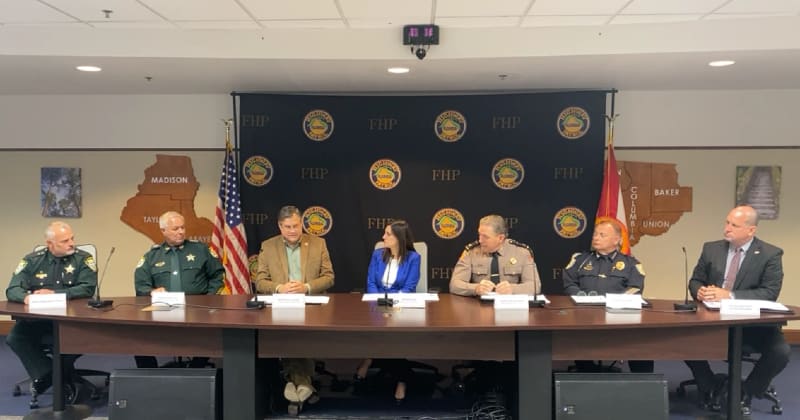 Jeanette Nuñez, Florida Highway Patrol, highlights efforts to prevent human and drug trafficking
This week, Lieutenant Governor Jeanette Nuñez and the Florida Highway Patrol hosted a roundtable with local North Florida law enforcement on anti-human and drug trafficking efforts around the I-10, I-75 intersection.
During the roundtable, law enforcement officials and leaders discussed the importance of interdicting human traffickers and drug traffickers as they pass through Florida communities, and efforts already deployed by local law enforcement and the State of Florida to suppress these illicit activities. Watch the full panel discussion here.
"Governor DeSantis and I appreciate our law enforcement and their daily efforts to keep drug dealers and human traffickers out of Florida," Nuñez said. "Unfortunately, we are in a position where we need to step up our efforts even further as politicians in DC and some misruled states would rather leave these criminals on the streets than put them in jail where they belong. Our administration will continue to supporting law enforcement officers and highway patrol officers who keep our communities safe."
"Interdicting traffickers and smugglers who enter our state with the intent to cause harm is more critical than ever, and a job we cannot do alone," said Florida Highway Patrol Director Col. Gene Spaulding. "Florida's law enforcement arm is strong and our effective multi-agency collaboration is the envy of the nation. We thank Governor DeSantis for his strong support of the men and women who wear the uniform, and the leadership of Lieutenant Governor Nuñez in bringing together key law enforcement officials today to share tactics and identify additional means to keep Florida safe.
"The thing about law enforcement is that when we identify a problem or the community identifies a problem, we go there," said Mark Hunter, Columbia County Sheriff. "It's a collective problem with guns and drugs, human trafficking, but putting it together for prosecution – but that's where we run into problems with jurisdictions. A lot of citizens don't realize not that your local and state authorities are not authorized to enforce federal laws. When people are here illegally, we do not have a mechanism in our system to detain those people because we cannot enforce federal laws. We We have rules and laws that we must follow, but criminals have no limits when it comes to breaking the law.
"Suwannee County is a small county and we have to work with what we have. Part of what we are seeing locally is that human trafficking is coming back with drugs," said Sam St. John, Suwannee County Sheriff. "When you do a traffic stop and you open a door and you have drugs, criminal activity that you find just by stopping someone for speeding. In Suwannee County, we are trying different ways to address these issues that are occurring. »
"When you're talking about a county with the numbers we have, only three overdoses affect everyone," said Scotty Rhoden, Baker County Sheriff. "Targeting traffickers and charging them is critical, which is why we have done some things in our area electronically and trained our narcotics officers to treat a case as a traffic homicide."
"Trafficking, drugs and guns go hand in hand, but criminals have no jurisdictional boundaries and we do," said Lake City Police Chief Gerald Butler. "We really focus on getting out into the communities and having our officers, especially the kids, so they know the police officers are their friends. One thing I have been working on is getting the technology as a force multiplier and we appreciate the grants and other state support that allows us to get and maintain this equipment.
"Nothing is in a vacuum per se. Human trafficking is linked to other crimes and other crimes are linked to other crimes," said FDLE Tallahassee Deputy Special Agent in Charge Keith Wilmer. "One thing that has been done in all 7 regions of Florida is that there are structured partnerships, coalitions, and task forces that target human trafficking that consist of law enforcement, law enforcement agencies, state and U.S. attorneys and NGOs or community entities.The focus of these groups is not just crime, it examines how to prevent human trafficking, how to care for victims of human trafficking and all those affected by it. This is a collaborative effort, and it cannot be done with one focus.
In 2021, FHP seized over 9,750 pounds of marijuana, 115 pounds of cocaine, over 20 pounds of heroin, over 250 pounds of methamphetamine, $4,401,352 in US currency and over $118,814,786 in contraband total input. An additional 72.4 pounds of other types of illegal drugs and prescription drugs were seized worth $2.8 million. The soldiers seized 272 weapons worth $166,000 and 150 vehicles worth more than $4.3 million. These seizures resulted in the arrest of 1,168 people and 2,308 felony charges.
FHP's Criminal Interdiction Unit (CIU) consists of specially trained soldiers assigned as criminal agents and dog handlers. These soldiers are strategically assigned throughout the state to patrol the interstate system and other highways to interdict drug couriers and other criminal activities. The CIU assists other federal, state, and local law enforcement agencies in detecting and apprehending drug dealers and other criminal offenders who use Florida highways. The SDI actively participates in various enforcement operations coordinated by the Florida Bureau of Drug Control. The CIU is equipped with sophisticated drug detection equipment such as fiber optic endoscopes, drug detection devices, electronic measuring devices, dual purpose canines and various other tools.
In addition, FLHSMV and FHP have partnered with Attorney General Ashley Moody to enlist Florida CDL holders in our fight to end human trafficking in Florida. The Highway Heroes initiative was launched in October 2020 to train Florida's half-million licensed commercial drivers on how to identify and report suspected cases of human trafficking. Florida commercial drivers are uniquely positioned to make a difference and close loopholes for traffickers looking to use transportation systems for personal gain. Since the launch of the initiative, more than 6,500 licensed commercial drivers, transport workers and members of the FHP have been trained on how to identify and report suspected cases of trafficking through training provided by Truckers against trafficking.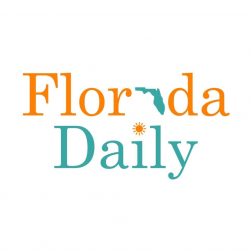 Latest articles by Florida Daily
(see everything)