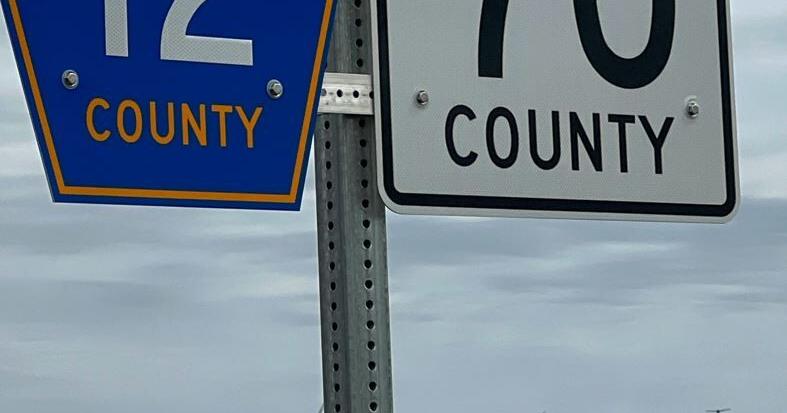 Ask Us: PSST and MnDOT Reduce Messages on Road Signs | Local News
Q: Ask It Guy, could you please find out why the signs on Hwy 60 going to Lake Crystal are changed from two posts to one post? Will they stand in the ice, snow and wind? Thanks.
A: This question was comforting to Scott Thompson of the Minnesota Department of Transportation.
"As this traffic engineer began to wonder if the signs that are so carefully selected for installation along state highways were even read by users, someone observed that they were installed differently! " said Thompson. "But then the reader called 'Ask Us Guy' like 'Ask It Guy.' I don't know what that does for my crisis of faith.
But the reader is correct that the MnDOT has cut many of its traffic signs by 50%.
"For more than 50 years, MnDOT had traditionally installed almost every one of its signs on at least two U-shaped posts (the post's name being derived from the cross-sectional shape of the post)," Thompson said. "Larger signs have been installed on up to four U-posts, and some signs have even used U-shaped toggles to ensure a sign can withstand the tortures of its 15-year life on the prairie."
At first glance, a person might think that there is only one consideration in deciding the number of posts used to hold up a road sign: what is the minimum number required to prevent the sign from collapsing?
But road safety managers also need to think about the impact, literally, of everything placed along roads. This is even more true when federal crashworthiness standards are in play, which is the case for any stretch of road that is part of the National Highway System – Interstates, US Interstates, and other critical roads such as Interstate 60 between Mankato and Iowa.
"The MnDOT U-channel panel designs passed the crash test in the 1970s and were protected by the crash test requirements of the 1990s," Thompson said. "However, much more stringent requirements were published in 2016, which require omnidirectional impact resistance."
Thus, previously, a sign had to be installed so that it would not be too dangerous if a driver left the roadway and hit the poles head-on. Under the new rules, which came into force on National Road Network projects from 2020, the impact resistance of poles must also be taken into account if they are struck from behind by an oncoming driver or hit by side.
"The increased focus on crashworthiness goes hand in hand with the federal government's and Minnesota's Toward Zero Deaths campaigns aimed at reducing the number of deaths on our roads," he said.
The MnDOT could have subjected its traditional U-channel design to crash tests to see if it met new federal standards, but those tests cost hundreds of thousands of dollars and there was serious skepticism about the chances that the he old design meets the new requirements.
So instead, MnDOT decided to switch to an alternative approach that had already passed the new testing standards – perforated steel square tube posts, or PSST. To avoid confusion, the MnDOT has also elected to use the PSST on new signal installations on all national highways, even if they are not part of the national highway system.
"In addition to being a safer sign structure system, PSST also significantly reduces labor when repairing signs damaged by snow removal or mowing operations, or more commonly, vehicles wanderers," Thompson said.
Regarding the number of poles, the teams have always based this decision on calculations in an MnDOT "wind load table", which specifies the number needed to withstand 90 mph gusts of wind depending on the size panel and foundation available at a particular installation site. .
"As to whether the PSST poles will stay in place during the ice, snow and wind that we are experiencing, the calculations say yes," Thompson said, adding that the agency will monitor to see if any adjustments are needed to the wind load chart.
Ask Us Guy knows that many readers – having already been forced to say goodbye to clock radios, incandescent light bulbs and DVD players – are feeling a little melancholic about the end of the channel's street signs. U. After all, they have been part of our lives for half a century.
Thompson offered some consolation. MnDOT signs have a useful life of up to 15 years, so U-posts installed just before the new standards took effect could remain along state highways until 2034.
Even after that, those nostalgic for a good old-fashioned street sign will likely still be able to find them along city streets and county and township roads, according to Thompson: "While the PSST is the apparent wave of the future, people will continue to see U-channel for many years to come.
Contact us — or ask, if you prefer — at The Free Press, 418 S. Second St., Mankato, MN 56001. Call Mark Fischenich at 344-6321 or email your question to [email protected] com; put Ask Us in the subject line.